Great Places are Waiting Campaign Overview
The COVID-19 pandemic brought the entire world to a halt, and one of the industries most impacted was travel. The U.S. Travel Association calls it "The Great Travel Depression" as travel-related job losses represent 38% of all job losses nationwide through April 2020. In South Dakota, where tourism is the state's second-largest industry, a quick rebound helps protect the more than 55,150+ full-time jobs the industry supports. 
Launched in late March 2020, our "Great Places are Waiting" is a three-phased campaign to help spur recovery of our industry in 2020. Phase 1 encouraged people to stay home, stay safe and that great places will be waiting. Phase 2 lets people know if they're ready to travel, South Dakota is open, and our great places are waiting. Phase 3 sees a return to more short-term action and immediate bookings with calls-to-actions like "Let's Roadtrip!" and "Book now."
To break down our phases, our shifts in message, tactics and markets — plus the criteria we base our decisions upon from one phase to the next — please see our "Great Places are Waiting" one-sheeter. 
The campaign incorporates TV, out-of-home (OOH), digital, social, email and radio. Target markets align better with the shorter drive distance that COVID-related research shows people are comfortable with traveling. Denver, Des Moines, Omaha and Minneapolis are primary markets with in-state and Chicago as secondary. 
Luckily, some of the state's greatest assets, like the many great places and wide-open spaces that draw 14.5 million visitors annually, are what people are looking for as they get back out into the world. People may have had to shelter-in-place, but they showed through it all that they never stopped dreaming about travel and the stay-at-home efforts across the nation created pent up demand.
Great Places are Waiting Creative Examples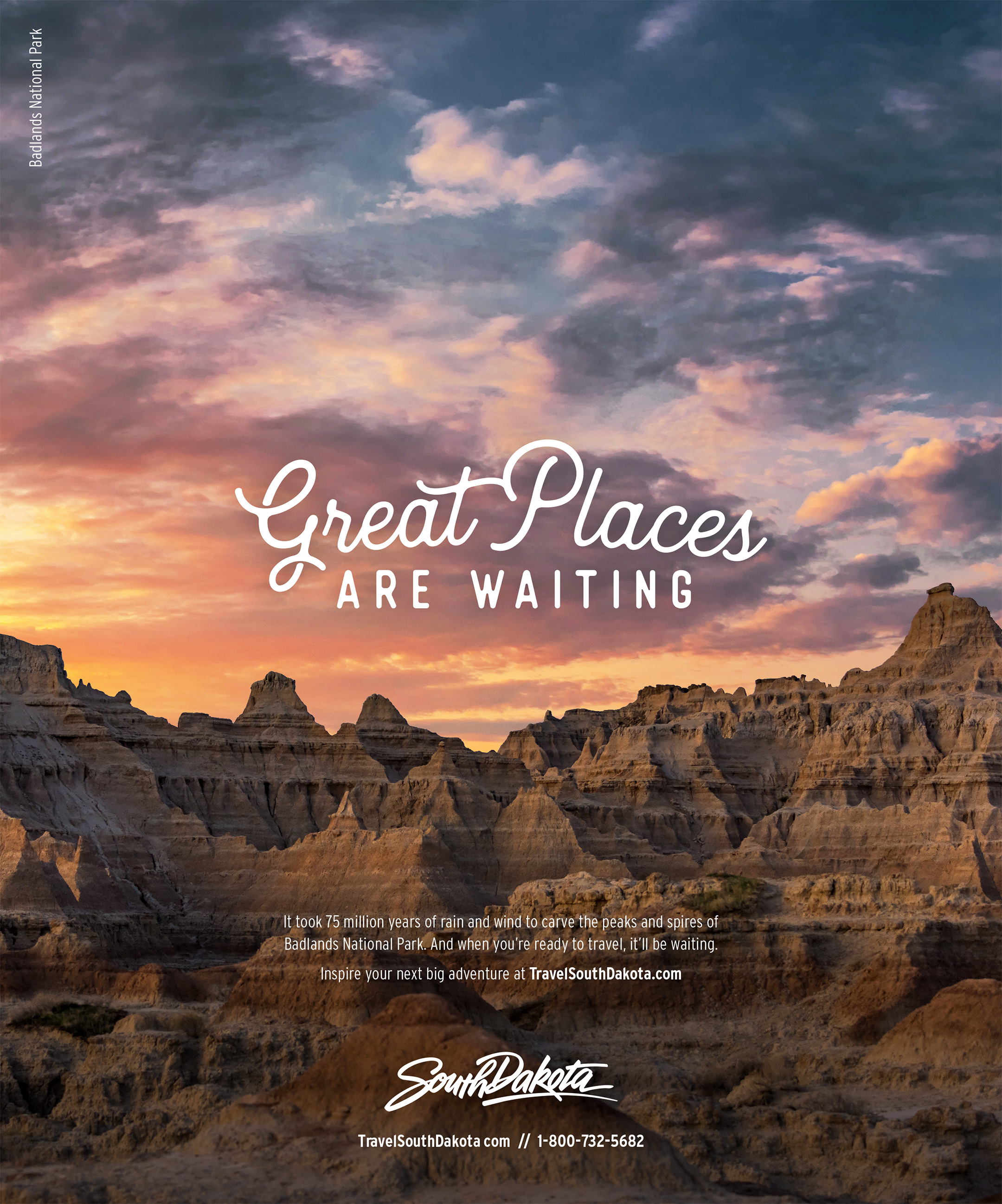 South Dakota Magazine (July/August 2020 issue) // Full page // Phase 1 Effort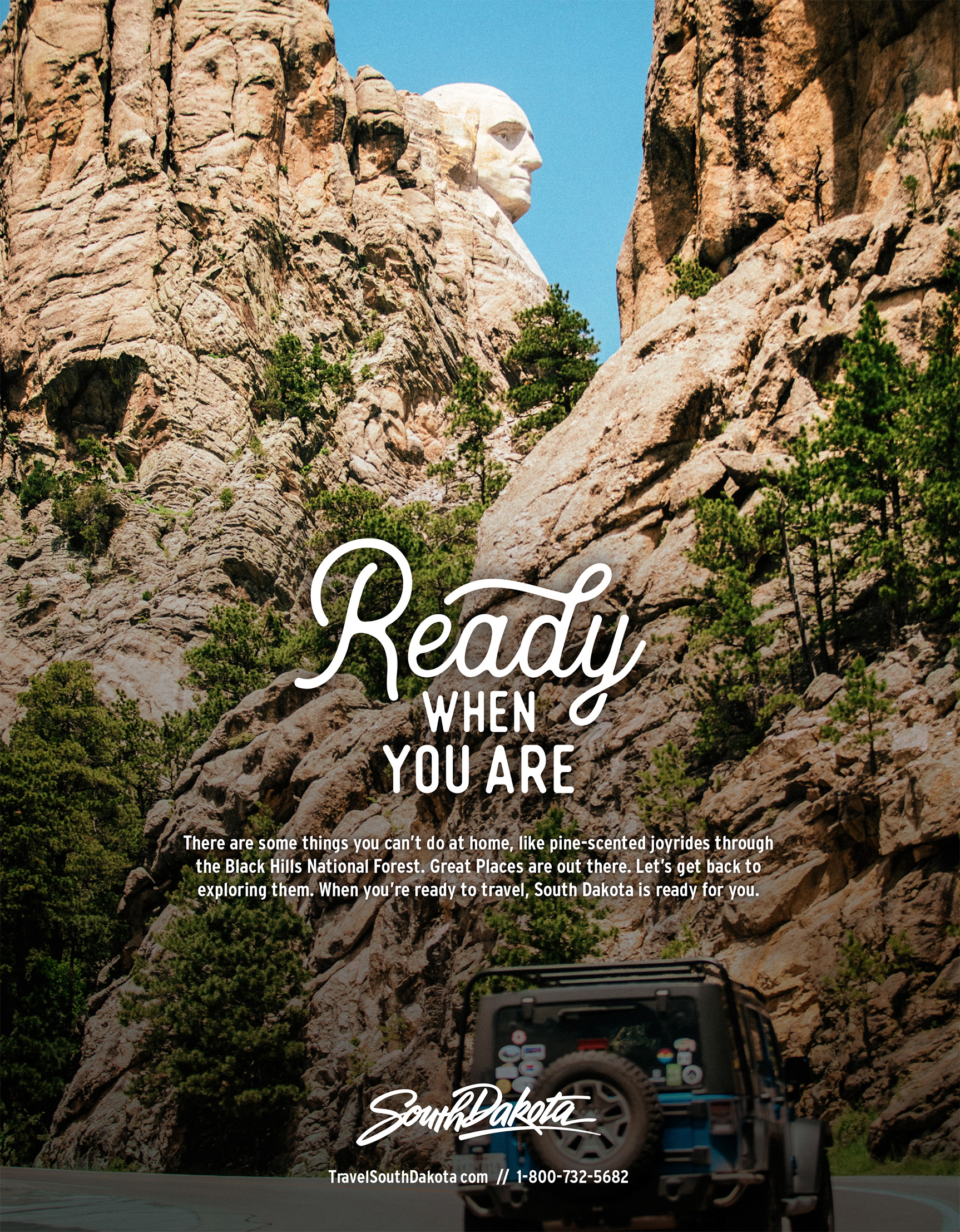 Country Living Magazine (July/August 2020 issue) // Cover Three // Phase 2 Effort
Digital Banners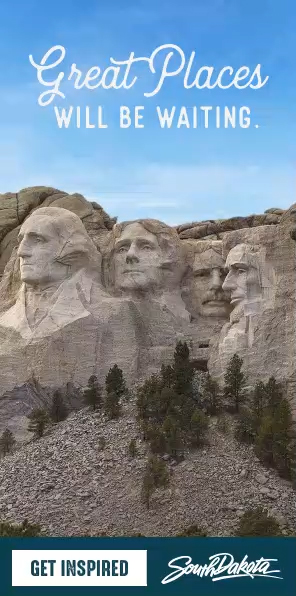 Great Places Will be Waiting // Targeted Banner // Phase 1 Effort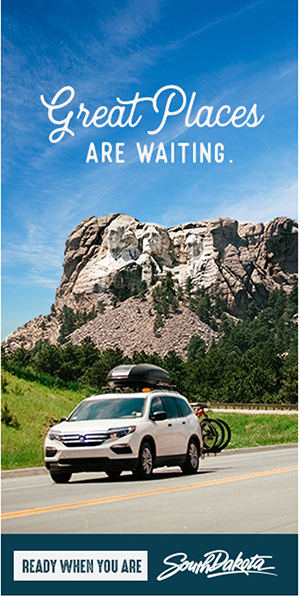 Great Places Are Waiting // Targeted Banner // Phase 2 Effort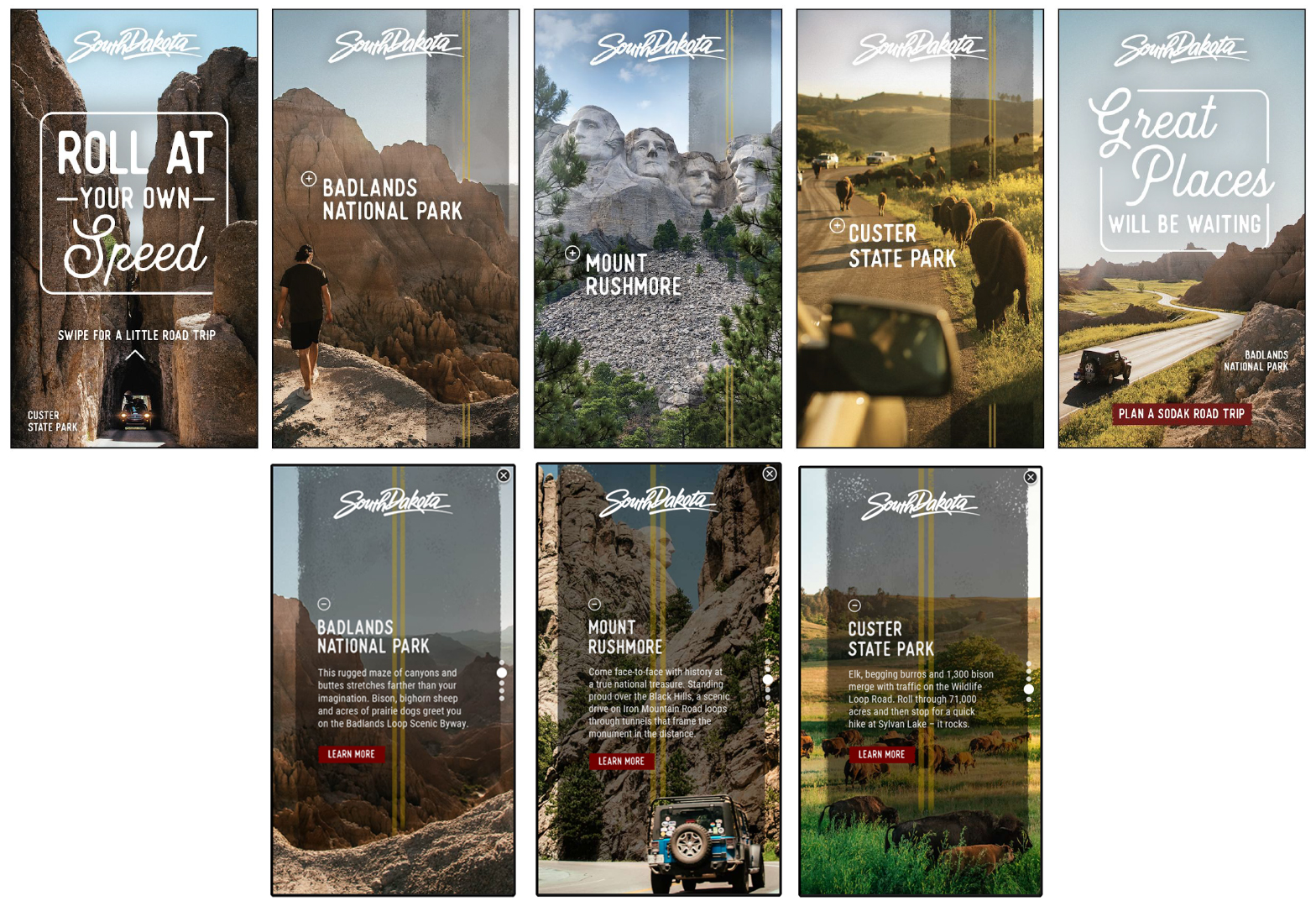 Great Places Are Waiting - Early Version* // Rich Media Unit // Phase 2 Effort
*Additional panel to be added for Falls Park or eastern outdoors. 
Out-of-Home (OOH)

Great Places Are Waiting Travel at Your Own Speed  // Minneapolis Billboard // Phase 2 Effort

Great Places Are Waiting  // Denver OOH Train Wrap // Phase 2 Effort
TV and Video
Great Places Are Waiting When it's Safe to Travel // Phase 1 Effort
Great Places Are Waiting Are You Ready? // Phase 2 Effort
Radio
Hear Great Places Are Waiting It Feels Like Forever // Phase 2 Effort