South Dakota Filming Locations
South Dakota's diverse landscape and varied terrain offer an abundance of opportunities for filmmakers. Our open roads with unique scenery make a perfect spot for car commercials and authentic ranch settings play nicely for feature-length Westerns. The opportunities are limitless in the land of Great Faces and Great Places.
Film South Dakota has location images available. To obtain a sampling of images, please contact us with information regarding the specific locations or scenes you are looking for. For a preview of South Dakota still images, visit our South Dakota Media Gallery.
 
The Land
South Dakota is a state of many startling and beautiful contrasts, emphasizing the geographic division of the agricultural Midwest and the mountains of the rugged West.
The wide Missouri River flows southward through the middle of the state. Gently rolling prairies and pristine, forest-rimmed lakes formed by ancient glaciers typify the northeast. Farms and small towns in the southeast offer the classic, rural America look. West of the river are deep canyons and rolling plains. The enchanting Black Hills rise abruptly in the southwest.
Southeast of the Black Hills is Badlands National Park, one of the most unique locations on earth and a perfect backdrop for a director's vision of other planets, the Old West, an ocean drained of water, or dare we suggest, hell?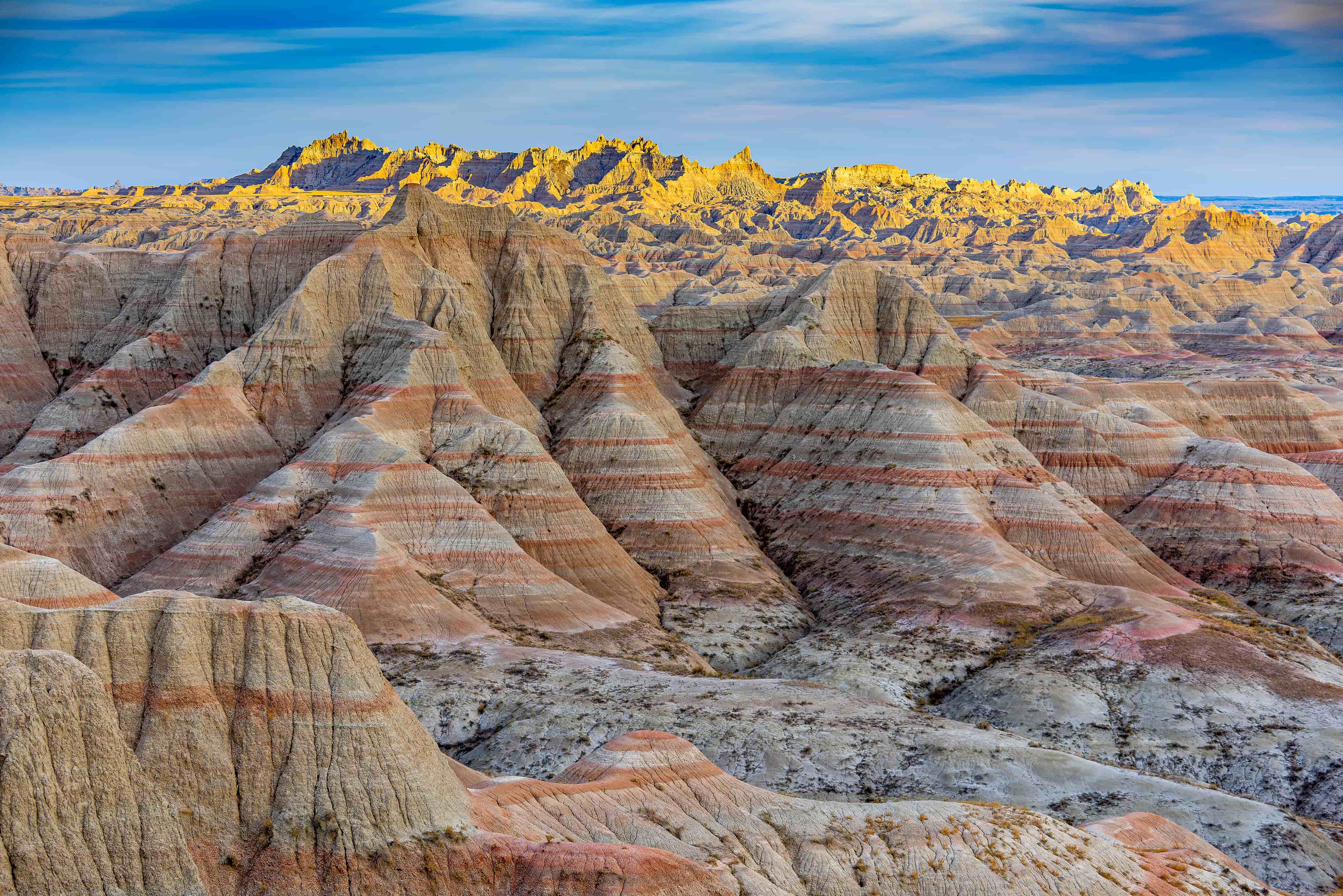 South Dakota is mainly an agricultural state with a population of 814,180 (2010 Census). Farms and ranches cover about nine-tenths of the state. Sheep and cattle graze on the sprawling ranches of the western plains, and on smaller farms in the east. Crops are grown in the rich soil of eastern South Dakota. The state is a top producer of beef cattle, hogs and sheep. It also ranks high in growing corn, flaxseed, rye, spring wheat and other crops.
Pierre is the capital of the state and Sioux Falls is the largest city, with a population of more than 160,000.
 
The Weather
Four times a year nature offers a magnificent display of seasonal beauty. Each new season ushers in a special look and feel of its own.
From eastern farmlands to western mountains and the plains in between, all of our locations offer unique year-round perspectives, blanketed in the vibrant greens and yellows of spring, deep reds and golds of autumn, and sparkling whites of winter.
In summer, temperatures can get high, but humidity stays low. In winter, it rarely remains below zero for an entire day. Our snow cover is light, reaching a maximum depth in February and early March, decreasing markedly near the end of March. The exception to this is the high country of the Black Hills, where 15 feet of snow and mild conditions prevail each winter.
You'll find no smog in South Dakota. Our skies are generally clear with excellent visibility. No matter which season your production calls for, you can capture it in South Dakota.