2018 Ben Black Elk Award
Presented to
Craig Pugsley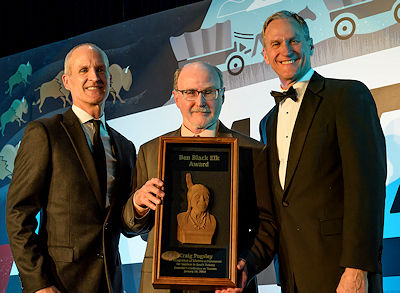 Secretary Jim Hagen and Governor Dennis Daugaard present
the 2018 Ben Black Elk Award to Craig Pugsley of Custer
at the 2018 Governor's Conference on Tourism.
downloadable, hi-res version of this photo (300 dpi)
The Ben Black Elk Award honors Ben Black Elk, who personally greeted visitors at Mount Rushmore National Memorial for more than 27 years. The award is presented annually to an individual who makes outstanding contributions to the state's visitor industry.
The 2018 Ben Black Elk Award recipient is Craig Pugsley. What started as a boyhood dream turned into a 40-year career in the South Dakota State Parks system.
Craig said his job at Custer State Park was the best of both worlds – providing access to wildlife and the outdoors while also providing the opportunity to develop partnerships with the private and public sectors to promote all that South Dakota has to offer.
He is also credited with helping shape the annual Buffalo Roundup and Arts Festival into the world-class, three-day event it is today. He has also been involved in efforts promoting the city of Custer and the entire Black Hills region believing that all destinations benefit when travelers come to see our icons.
Craig retired from Custer State Park in 2017, but before leaving his post shared this with his team... "Always remember to 'dream big' like the visionaries before us."
In honor of his great love for South Dakota and his four decades of promoting it, Craig Pugsley was named the 2018 Ben Black Elk Award winner.