2019 Excellence in Tourism Innovation Award
Presented to
Historic Deadwood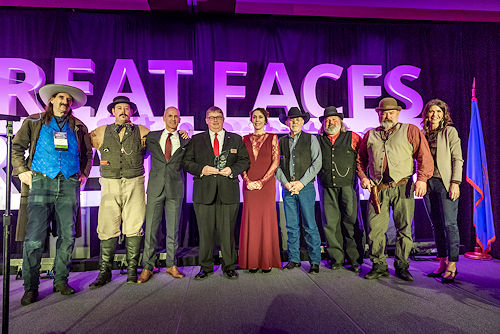 Secretary Jim Hagen and Governor Kristi Noem present the
2019 Excellence in Tourism Innovation Award to Historic Deadwood
at the 2020 Governor's Conference on Tourism.
downloadable, hi-res version of this photo (300 dpi)
The Excellence in Tourism Innovation Award, first presented at the 2013 conference, is given by the Department of Tourism to honor an industry partner for its innovative thinking in marketing or special promotion that elevates the visitor's experience.
Historic Deadwood welcomed more than one hundred thousand guests to their new visitor's center. Situated along a mountain creek, this building offers interactive historical exhibits, meeting spaces and easy access to nearby hiking and biking trails.
Historic Deadwood's newest year-round family-friendly gathering space, Outlaw Square, is an outdoor pavilion in the heart of town. This entertainment facility hosts a variety of events including concerts, ice skating, history presentations, movie nights, craft fairs, holiday and sporting events and much more.
In addition, Historic Deadwood partnered with HBO on a successful movie premier, resumed Stagecoach rides and developed plans to update the Depot Info Center in the coming year.
For all of these efforts, Historic Deadwood was named the recipient of the 2019 Excellence in Tourism Innovation Award.