2021 George S. Mickelson Award
The George S. Mickelson Award honors businesses, communities, or organizations that have done an exemplary job of exceeding visitors' expectations in customer service. It marks the culmination of a yearlong hospitality program that involves hospitality training, customer comment cards, an employee recognition program, and an application for the Great Place designation.
One George S. Mickelson Award was presented for 2021.
Presented to
AmericInn by Wyndham, Belle Fourche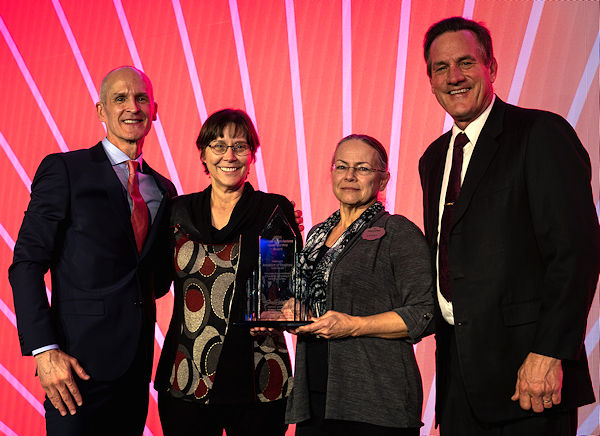 Secretary Jim Hagen and Lt. Gov. Larry Rhoden present the
the 2021 George S. Mickelson Award to Denver Wilson and
Stacey Raisanen of AmericInn by Wyndham, Belle Fourche,
at the 2022 Governor's Conference on Tourism.
downloadable, hi-res version of this photo (300 dpi)
AmericInn by Wyndham in Belle Fourche's 18 employees work hard to welcome guests with outstanding service. There is evidence in the reviews left by countless happy guests. Five stars across the board for service, cleanliness…and people cannot stop talking about the breakfast. Seriously – hot and fresh waffles, omelets and even gluten free options.
Breakfast aside, they've created an environment that embodies home away from home, actively promoting the area to guests and embracing hospitality training.
Thank you to all of our industry members who participate in the Great Place Program and to all industry staff who go above and beyond in the name of great service. Here are the finalists for the 2021 George S. Mickelson Award. In addition to the winner, these finalists also deserve recognition for all they do to make our visitors feel welcome:
Akta Lakota Museum, Chamberlain
Children's Museum of South Dakota, Brookings
Fort Welikit Family Campground, Custer
McCrossan Boys Ranch, Sioux Falls
Go to "Training & Hospitality" for more information about the
qualifications for the George S. Mickelson Award and the South Dakota Great Place Program.
Back to Tourism Awards