SOUTH DAKOTA AND WYOMING TOURISM DEPARTMENTS COME TOGETHER TO PROMOTE THE ULTIMATE AMERICAN ROAD TRIP
"Black to Yellow" Campaign Will Promote Outdoor Adventure and Family-Friendly Escapes to the Black Hills National Forest and Yellowstone National Park
9/2/2020
PIERRE, S.D. – As Americans begin to travel again and road trips to the great outdoors emerge as the preferred way to vacation, South Dakota and Wyoming have joined forces to promote travel to their states with the Black to Yellow tourism campaign. Running through September 2020, the campaign seeks to entice travelers to hit the road, traversing the scenic routes that wind from South Dakota's majestic Badlands National Park to Wyoming's iconic Yellowstone National Park.
"South Dakota is open for those ready to travel," said Governor Kristi Noem. "Folks from every corner of the country are road tripping to South Dakota's great places and open spaces. Our partnership with the Wyoming Office of Tourism will help expand our message and attract adventurers looking to explore the beauty of America's most treasured landmarks."
"Wyoming's unparalleled wide-open spaces give travelers an abundance of opportunities to explore and to do so safely," said Wyoming's Governor Mark Gordon. "Wyoming and South Dakota's new road trip campaign will truly showcase the pioneering spirit, a rich history, and western hospitality both states have to offer."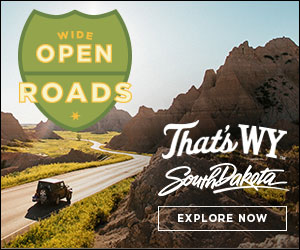 To help travelers plan their trip, the states have put together exciting itineraries that explore their most well-known attractions and lesser-known gems. From taking in quirky roadside stops, like South Dakota's Wall Drug and national treasures like Wyoming's Devils Tower, to exploring the scenery of Bighorn Canyon National Recreation Area and Badlands National Park, travelers can expect to encounter the beauty of the states' wide open spaces, unparalleled wildlife viewing and the freedom of the open road. The itineraries and other resources for travelers will live on the Black to Yellow website, www.blacktoyellow.com.
The digital campaign will include custom itinerary content by AFAR media and Tripadvisor to be promoted through targeted high-impact ads; audio ads on Pandora and Spotify, and targeted social media ads. In addition, the states will partner with a social media influencer to embark on a road trip through the two states, capturing and sharing their favorite attractions and experiences along the way.
For more information, visit www.blacktoyellow.com
-30-
Digital Assets: For downloadable visual assets for the Black To Yellow campaign, please use this file transfer link.
 
---
MEDIA CONTACTS
South Dakota Department of Tourism
Katlyn Richter, Global Media & Public Relations Director
Email: [email protected]
Wyoming Office of Tourism
Piper Singer, Public Relations & Media Manager
Email: [email protected]
About South Dakota
The Mount Rushmore State offers a diverse range of scenic byways and dramatic landscapes; iconic monuments and quirky roadside attractions; colorful history and rich culture; and the multitude of travel experiences that make it a popular destination to visit year-round. South Dakota is home to famed sites like Mount Rushmore National Memorial and the Old West town of Historic Deadwood, along with rolling prairies and majestic mountains. The state boasts six national parks, including Badlands National Park, and 63 state parks and recreation areas, offering endless opportunities for exploration, camping and spotting wildlife. It also has some of the country's best rock climbing, hiking and biking trails. In addition to the vast outdoor adventures, the destination has an array of distinct events, unique museums and Native American heritage for travelers to discover. Attractions like the annual Buffalo Roundup in Custer State Park, the largest roundup in the country; abundant fossil fields and archaeological sites like The Mammoth Site; more than 100 museums; and rodeos and Native American experiences like powwows, all provide travelers with an authentic journey into America's heartland. www.travelsouthdakota.com
About Wyoming
The Wyoming Office of Tourism is the only state agency charged with promoting and marketing Wyoming as a vacation destination to domestic and international travelers. The tenth-largest state in terms of area, Wyoming is also the least populated state in the country with an estimated 580,000 residents. Wyoming is home to many firsts, including the country's first national park (Yellowstone), first national monument (Devils Tower) and first national forest (Shoshone). These special places, along with other natural wonders like Grand Teton National Park and the Bighorn Mountains as well as Wyoming's heartfelt cowboy hospitality, welcome millions of visitors annually.
Wyoming is also known as The Equality State, Wyoming celebrated its 150th anniversary of women's suffrage in 2019. On Dec. 10, 1869, the Wyoming territory became the first in the nation to guarantee women unconditional suffrage including the right to vote, hold public office and serve on a jury – 50 years before the 19th Amendment allowed the same rights throughout the United States. To learn more about Wyoming, visit TravelWyoming.com.