2005 George S. Mickelson Great Service Award
Presented to
Cedar Shore Resort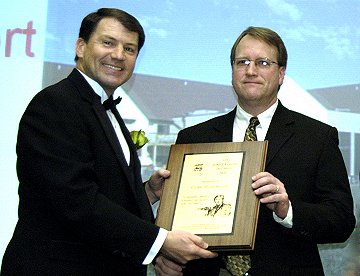 Governor Mike Rounds presents the 2005 George S. Mickelson
Great Service Award to Ron Madison of Cedar Shore Resort
at the 2006 Governor's Conference on Tourism.
 
South Dakotans are known for having good, solid values. We don't think twice about offering directions to a visitor or stopping to help a stranger with a flat tire. In fact, it's not all that unusual for one of us to drive a stranded visitor 100-plus miles to get a part for their vehicle so they can continue on their trip, enjoying our great state. The George S. Mickelson Great Service Award recognizes a star in the realm of customer service.
The George S. Mickelson Great Service Award honors a business or organization that has truly taken hospitality to new levels. Exemplary customer service is a core component of their operations. Recipients of this award understand that customer satisfaction is a key to success.
The 2005 George S. Mickelson Great Service Award recipient is one of 107 businesses who received the Office of Tourism's Great Service STAR designation. That's 107 businesses from across the state that went above and beyond what is the norm to provide first-class service.
The winner of the 2005 award is Cedar Shore Resort. They exceeded the criteria for the STAR designation and first rate customer service is a daily commitment of the staff and management. They hired a professional trainer to come to their property and help them in their customer service efforts. They also attended state-sponsored hospitality workshops and other seminars to further elevate their customer service success.
Cedar Shore Resort values its employees, and employees share managements` "never-say-no to a customer" attitude. Employee efforts are recognized through a token reward program, which are awarded through acts of great service. These tokens are as good as cash and employees have a number of ways to cash them in.
Cedar Shore Resort has also developed three customer service teams to meet, greet and wish guests well upon their departure. They also have a tremendous program to train new and existing employees. This company is dedicated to customer service and is constantly thinking of new ways to improve their efforts. To top it off, 12 staff members received Gov. Rounds` Letter of Recognition for their service in 2005.
In addition to the Great Service Award, Cedar Shore Resort also receives $1,000 credit from the Office of Tourism to use in any of the office's cooperative advertising programs in 2006.