2013 Ben Black Elk Award
Presented to
Michelle Lintz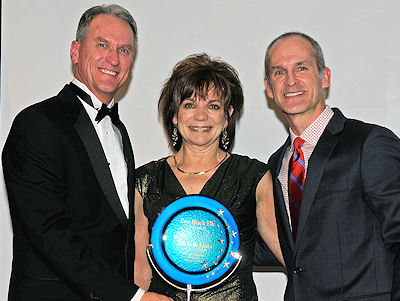 Governor Dennis Daugaard and Secretary Jim Hagen present the
2013 Ben Black Elk Award to Michelle Lintz of Rapid City 
at the 2013 Governor's Conference on Tourism.
downloadable, hi-res version of this photo (300 dpi)
The Ben Black Elk Award recognizes an individual who has made tireless and outstanding contributions to the state's visitor industry. The award commemorates Ben Black Elk, who personally greeted visitors at Mount Rushmore National Memorial for more than 27 years.
MIchelle Lintz, Executive Director of the Rapid City Convention and Visitors Bureau, is the recipient of the 2013 Ben Black Elk Award. She has been a force in South Dakota's tourism industry for the past 26 years and has proven time and time again that she is a strong and respected leader.
"Michelle is committed to leading the industry and is always embracing new ideas to promote her city to visitors," said Gov. Daugaard. "She has continuously promoted Rapid City, the Black Hills and South Dakota as a travel destination and is a strong and well-respected leader in her community and across the state."
Michelle's commitment to innovative marketing even includes walking the streets of Denver in 90 degree heat with four presidential bobble head mascots.