2016 Excellence in Tourism Innovation Award
Presented to
the Buffalo Chip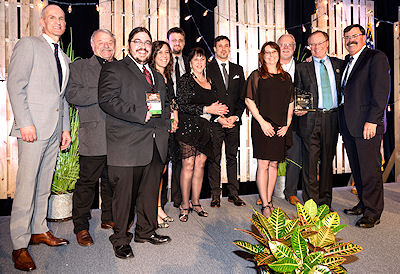 Secretary Jim Hagen and Lt. Gov. Matt Michels present
the 2016 Excellence in Tourism Innovation Award to
Rod "Woody" Woodruff (holding the award) and
team from the Buffalo Chip in Sturgis
at the 2017 Governor's Conference on Tourism.
downloadable, hi-res version of this photo (300 dpi)
The Excellence in Tourism Innovation Award, first presented at the 2013 conference, is given to a member of the South Dakota visitor industry for their innovative thinking in marketing or special promotion.
The Buffalo Chip in Sturgis truly exemplifies the 2017 "Building for the Future" conference theme. They have transformed a simple campground into a destination.
For the past 37 years, this campground has made major physical improvements to increase accessibility and make their guests' stays more comfortable and fun.
Since 2015, they have paved campground thoroughfares, built additional cabins with air conditioning, improved bathrooms and shower houses, and boosted their Wi-Fi access. They've also added decks, walkways, cabanas, event complexes, zip lines, concert stages and even more staff members to better serve their customers.
But the Buffalo Chip hasn't just focused on physical improvements; they've also added more events and entertainment for campers, including its Crossroads area where Sturgis Rally goers can enjoy free entertainment.
The Buffalo Chip wants guest to leave believing that staying there will never be as good as it will be in the coming years.