2022 Hunt The Greatest
Hunting Marketing Campaign
In 2020, the Department of Tourism partnered with the Department of Game, Fish & Parks to develop a robust strategic marketing plan to showcase South Dakota as the best pheasant hunting destination. By introducing individuals to the hunting experience found nowhere else, the partnership and campaign continue to recruit new hunters to South Dakota while also retaining hunters to come back year after year.
This year's efforts continue to build on the "Hunt the Greatest" campaign messaging, showcasing what makes the state the greatest place to hunt: its habitat and hospitality. Creative highlights the land, birds and traditions offered in South Dakota, while also including representatives of all audiences.
With research showing that audiences start planning their hunting trips mid-July, the campaign got in front of audiences earlier in the year to influence decision-making, planning and bookings. With a wide geographical footprint, efforts launched the beginning of June and ramped up again late August to drive license purchases. And to close out the season, a late-season push will run the beginning of November.
Audience
Target audiences align with core hunting audiences of years past: Traditionalists and Adventure Naturalists, with an additional focus on Lapsed Hunters as well. See the Brand Standards Guide for audience insights.
In addition to the three core hunting audiences, female hunting discussion groups were conducted last year to a) better understand the female audience's motivations and beliefs on the appeal of pheasant hunting and b) better attract female hunters to South Dakota. With women being the fastest growing segment in hunting, this year's campaign continues to target female hunters ages 25-54. These women are either hunters themselves or have family traditions & values tied to our key hunting audiences.
Tactics
The 2022 campaign utilizes a multi-channel approach that includes regional cable, connected TV, national print, podcasts, and radio. Complementing those efforts digitally are video, native, display, paid social, and paid search.
The department continues to generate immense success with partnerships, especially in reaching key target audiences through the partners' distribution reach. For the third year in a row, the department has partnered with SCHEELS to promote a hunt giveaway through in-store creative, digital display, paid social, email and magazine placement.
In addition to the Hunt the Greatest Giveaway, the department has partnered with Melissa Bachman, host of "Winchester Deadly Passion," and DSG, a women's outerwear company, on a hunt giveaway targeting our female hunters. The giveaway will be shared through digital and social efforts, with the giveaway hunt featured on the Sportsman Channel's "Winchester Deadly Passion".
The Pheasants Forever partnership also continues for another year with print placement, digital and social placement, and a dedicated email send reaching our core hunting audience. Along with ongoing marketing efforts, the partnership positions South Dakota with national sponsor recognition and provides featured placement at the upcoming Pheasant Fest in Minneapolis.
Another continued partnership that will reach individuals looking to visit the state is through the Minnesota Vikings. With more than 7 million fans nationally — and an additional nearly 2 million within the state of Minnesota — the department is messaging to these individuals through digital, email and organic social. In addition, the state is reaching the fan base through in-stadium efforts. Hunting visuals and messaging are shared as an in-game feature on LED boards throughout the game as well as after each scoring drive replay. South Dakota also engages with audiences on more than 2,000 televisions throughout the entire stadium.
And to top the partnerships off for this year's hunting campaign, the department has joined Fernson Brewing Company to pay tribute to the state's pheasant hunting tradition and efforts to preserve it. The partnership educates hunters and the public about the Second Century Habitat Fund by wrapping Fernson's flagship beer, Lion's Paw. The wrapped cans will be distributed across South Dakota and regionally, further promoting South Dakota's pheasant hunting season and conservation efforts.
Markets
While traditional efforts have a national reach, we're also specifically targeting Minnesota, Colorado, Nebraska, Iowa, Wisconsin and — of course — South Dakota.
Digital efforts include Minnesota, Texas, Colorado, Nebraska, Iowa, Michigan, Illinois, Kansas, Arkansas, Indiana, Ohio, Oklahoma, Utah, North Dakota, Wisconsin, California, North Carolina, Alabama, Tennessee, Georgia, Florida, and South Dakota.
CREATIVE EXAMPLES
Television & Video
Television :30 video:
Digital :15 video:
Print
Quail Forever full page: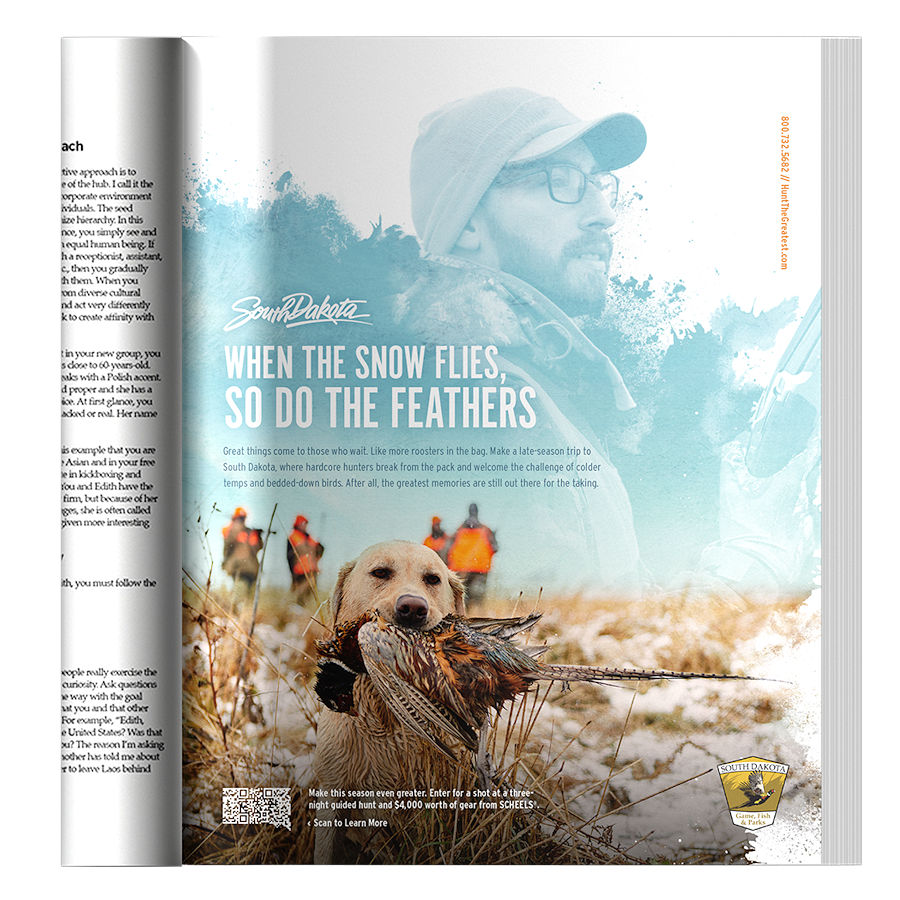 Digital
Banner ads were developed for the four distinct audiences: Adventure Naturalist, Female Hunter, Lapsed Hunter and Traditionalist.
2022 Hunt The Greatest banner ads
 
FOR INFORMATION
For more information, please contact Erin Weinzettel, Global Marketing & Brand Manager for Tourism, or Nick Harrington, Communications Manager for Game, Fish & Parks.