SOUTH DAKOTA LEADS THE NATION IN ROAD TRIP ACTIVITY
South Dakota's Tourism Industry Reports Great Momentum in Early 2022
2/18/2022
PIERRE, S.D. – South Dakota continues to lead the nation in tourism recovery. According to Arrivalist, a leading mobile geolocation company, South Dakota is currently pacing 18% ahead of 2019 in road-trip activity. Arrivalist research also showed that South Dakota was the only state in the nation to show double digit increases (11% increase) in overnight stays compared to the same timeframe in 2019.
"South Dakota leads the nation in tourism growth because we respect our people, their rights, and their freedoms," said Governor Kristi Noem. "People visit us because they want to share that with us, so we will continue telling our story."
"Kicking off 2022 with these incredible numbers is simply outstanding," said Jim Hagen, Secretary of the South Dakota Department of Tourism. "Data shows that travelers have an interest in exploring rural America as they seek outdoor experiences with road trips and visits to national and state parks. South Dakota offers all of this and more in spades. These numbers clearly demonstrate that our targeted marketing is resonating, inspiring road trips to our state."
"We built the Daily Travel Index at the beginning of the pandemic as a free tourism industry tool to help our clients chart a path to recovery," said Cree Lawson, founder & CEO of Arrivalist. "It's really exciting to see South Dakota emerge as one of the first states to not only return to pre-pandemic levels but exceed them by a wide margin."
The South Dakota Department of Tourism is comprised of Tourism and the South Dakota Arts Council. The department is led by Secretary James Hagen.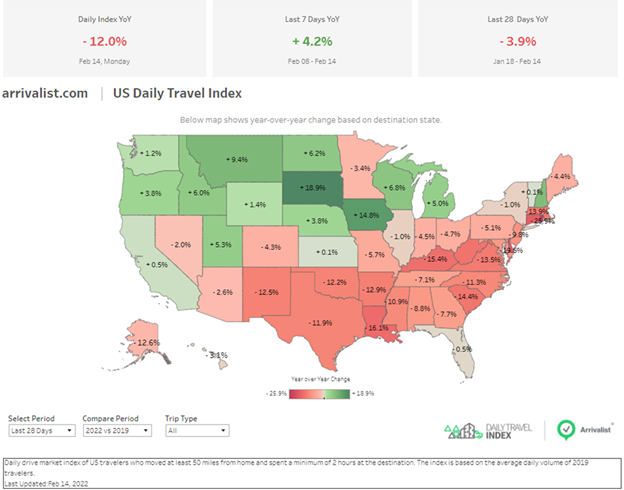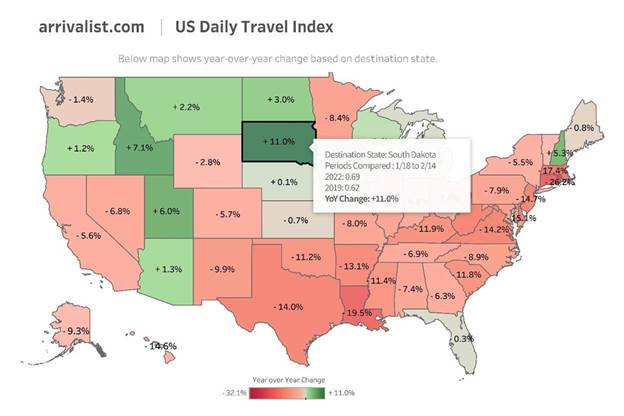 -30-
MEDIA NOTES:
Source: Arrivalist
Image Attached: Map attached shows year-over-year change in road trip activity based on destination state for the time period of January 18-February 14. The Daily Travel Index is updated daily and is publicly accessible at www.Arrivalist.com/Daily-Travel-Index.
About Arrivalist
Arrivalist is the leading location intelligence platform in the travel industry. The company uses multiple location data sets to provide actionable insights on consumer behavior, competitive share, media effectiveness, and market trends. Over 200 travel marketers, including 100 cities, 40 U.S. states, and four of the top 10 U.S. theme parks, use these insights to inform media strategy, operations, and destination development. Arrivalist is headquartered in New York City, with offices in San Francisco and Toronto.
How the Data is Calculated
Arrivalist's methodology is based on a representative balanced panel of GPS signals representing road trips taken specifically in cars (excluding travel by air). A trip is measured as one where the user has traveled a minimum of 50 miles and spent a minimum of two hours at the destination. Commuter travel or other frequently repeated trips—i.e., cargo deliveries or other reoccurring activities—are excluded from the Daily Travel Index.
Arrivalist Media Contact:
Hannah Wootton
[email protected]
---
CONTACT
Katlyn Svendsen, Global Media & Public Relations Director
South Dakota Department of Tourism
Email: [email protected]