South Dakota Peaks to Plains Passport
PROGRAM OVERVIEW
Travel South Dakota launched the Peaks to Plains Passport in March 2023, the third free mobile-exclusive pass in our partnership with Bandwango. Peaks to Plains was created, in collaboration with South Dakota Game, Fish & Parks, to highlight the hidden gem state parks and outdoor attractions across the state. Using gamification, the passport encourages people to explore the outdoors in South Dakota.
BENEFITS        HOW IT WORKS        PROMOTIONAL EFFORTS        FREQUENTLY ASKED QUESTIONS        CONTACT
Summary
With the pass, visitors and locals can check in to designated Peaks to Plains locations to accumulate points based on the number of locations visited and to redeem points for free prizes. The program delivery is seamless, with no app download needed. Instead, the pass is simply accessed through TravelSouthDakota.com. Participant location redemption is followed through GPS-based tracking, with prize redemption tracked within the participant's passport application. Prizes are then shipped directly to participants. Click below to find a complete summary (PDF) of the Peaks to Plains Passport program:
Peaks to Plains Passport summary
 
Benefits
This free program is designed to attract visitors to lesser-known sites throughout South Dakota, at no cost to participating businesses, events and locations. Points are accrued through location check-ins, each stop is worth 10 points. Prizes range from custom South Dakota posters (100 points) to an ENO Hammock and accessories (500 points). For more information, check out our official South Dakota Peaks to Plains page on TravelSouthDakota.com:
South Dakota Peaks to Plains Passport
 
How It Works
The passport is a mobile-exclusive passport with no purchase necessary. Participants sign up to access the passport on TravelSouthDakota.com and receive an email confirmation to view their passport. The location redemption process is GPS-based, with visitors simply checking in to each location from their phone's home screen.
Timeline
The Peaks to Plains Passport and points gathered through check-ins expire on April 1, 2024. Following April 1, 2024, passport holders are required to register for the passport again.
PROMOTIONAL EFFORTS
Locations Materials
Each featured business is provided with a Peaks to Plains window cling and poster (examples, below). Businesses should display one or both of these elements prominently so visitors know they've found the correct location. Redemption instructions should be kept on hand for employees to reference if visitors have questions about the program. Download this PDF:
Redemption Instructions for South Dakota Passports
Download PDF of Peaks to Plains Poster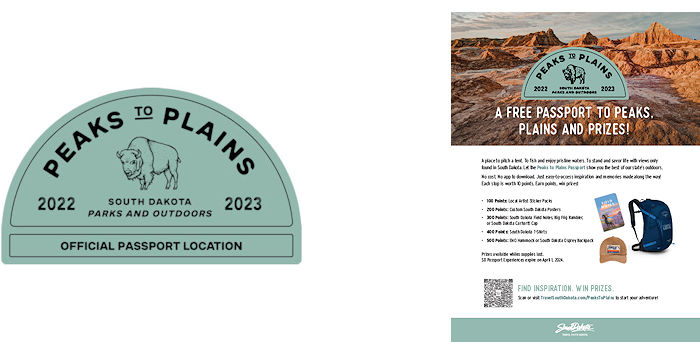 Passport Elements
As a key component of Travel South Dakota's marketing campaigns, the Peaks to Plains Passport will receive strong promotion through Travel South Dakota-owned channels. The passports will be promoted on TravelSouthDakota.com with website personalization efforts, social media pushes and email program callouts, along with display and social promotion through paid media efforts.
 
How to Promote
Travel South Dakota is excited to promote the Peaks to Plains Passport through paid and owned media; however, it's appreciated when others want to assist in promoting the program. Here are a few ways in which communities, businesses and locals can promote the passport programs:
Request Collateral: Travel South Dakota has posters and bookmarks providing visitors with an overview of the passport program & prizes. Businesses may request posters and/or bookmarks to display by contacting Travel South Dakota.
Download PDF of South Dakota Passports poster
 
Share on Social: Being a location on the passport provides bragging rights. Businesses, events and locations can share the great news with their social followers. Tout that the passport will bring locals and visitors alike to your community and businesses. In need of a social media image? Download one of these badges:
Spread the Word: If you are a current passport location or local business, share with visitors the next nearest passport location, assisting passport holders to continue their journey or simply to start their passport adventure.
 
How to Get Involved
Would you consider your business a hidden gem in the outdoor community of South Dakota? Do you know of one we should include? Each 12-month cycle, Travel South Dakota will revamp each passport with new businesses, events and/or locations. We'd love to potentially add your recommendations to the program in the future! Contact Erin Weinzettel with Travel South Dakota for more information.
FREQUENTLY ASKED QUESTIONS
Q:
How did my business/event/location get selected? 
Q:
Does it cost anything for businesses/events/locations to participate?
Q:
As a participating business, do my employees or I need to do anything?
Q:
If visitors have questions about the Peaks to Plains Passport, where should they go?
Q:
How do people get their prizes? 
Q:
How long does this program run? 
FOR INFORMATION
For more information, please contact Erin Weinzettel, Global Marketing & Brand Manager, at 605-295-4392 or [email protected].