2004 George S. Mickelson Great Service Award
Presented to
Custer State Park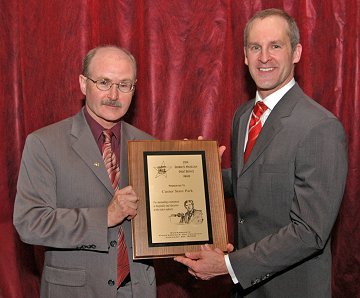 Craig Pugsley accepts the 2004 George S. Mickelson
Great Service Award from James Hagen, Secretary,
Department of Tourism and State Development,
at the 2005 Governor's Conference on Tourism.
 
South Dakotans value good customer service, just like they value a solid work ethic. Therefore, this award is an important one for our state since it recognizes a star in delivering customer service.
The George S. Mickelson Great Service Award honors a business or organization that takes hospitality seriously. Exemplary customer service is a core component of their operations. Recipients of this award understand that their  customers' satisfaction equates to their success.
This year's George S. Mickelson Great Service Award recipient is one of 118 businesses or organizations that received the Office of Tourism's Great Service STAR designation in 2004. That's 118 businesses that went out of their way, taking extra measures to excel at delivering customer services.
Custer State Park has an extensive training program and has had one throughout the years. Not only do they bring in professional customer service trainers and local experts, they take their employees on training tours of surrounding attractions to encourage cross-selling of the area.
Custer State Park's nomination forms for employee recognition are the most detailed and complete that the State received. Many of their employees received all three awards, and have done so year after year.
Custer State Park has participated in the Great Service STAR program for the past 14 years. They continue to research ways to improve customer service, both for their visitors and for their employees. Their hospitality philosophy is "Treat our employees as we want them to treat our guests."
In addition to the Great Service Award, Custer State Park also receives $1,000 credit from the Office of Tourism to use in any of the office's cooperative advertising programs in 2005.