2006 George S. Mickelson Great Service Award
Presented to
Big Thunder Gold Mine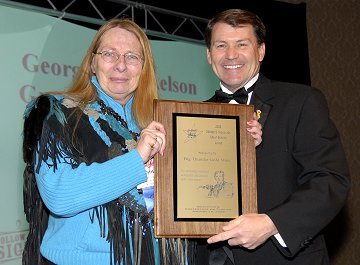 Governor Mike Rounds presents the 2006 George S. Mickelson
Great Service Award to Sandra McLain of Big Thunder Gold Mine
at the 2007 Governor's Conference on Tourism.
From border to border, South Dakota is widely known for offering the finest hospitality to our visitors. South Dakotans are known for their solid values and friendly demeanor. Always willing to lend a helping hand, we often don't think twice about giving someone directions or stopping to help a stranger with a flat tire.
The George S. Mickelson Great Service Award honors a business or organization that has taken hospitality to the next step. Exemplary customer service is a core component of the their operation, and recipients of this award understand that customer satisfaction is a key to success.
The 2006 George S. Mickelson Great Service Award recipient is one of 123 businesses who received the Office of Tourism's Great Service STAR designation for 2007. That's 123 businesses from across the state that went above and beyond the norm to provide first-class service during 2006.
The winner of the 2006 award is Big Thunder Gold Mine of Keystone. They far exceeded the criteria for the STAR designation. Offering first rate customer service is a daily commitment of the Big Thunder Gold Mine staff and management. Members of management attended the Disney Institute training in Rapid City, the entire staff attended an in-house training, and they were named the 2006 Keystone Business of the Year.
Big Thunder Gold Mine recognizes the value in each of its employees, and rewards them accordingly. Employee efforts are acknowledged with free meal certificates, monetary raises, photos of staff posted next to guest comments, visitor comments broadcast over the PA system and Governor's Hospitality Certificates posted for visitors to see. To top it off, nine of their fifteen seasonal staff members received the Governor's Letter of Recognition for their service in 2006.
To quote a few of Big Thunder Gold Mine's customers, the staff is "patient with children," "polite and professional," "took time to answer all of our questions," "promoted the area and all of South Dakota," and "treated us royally."
Not only is Big Thunder Gold Mine committed to current hospitality efforts, they are constantly thinking of new ways to improve their customer service. Future plans include having all staff participate in state-sponsored training, designating a special parking place for employees of the week and creating an internal Power Point training program.
In addition to the Great Service Award, Big Thunder Gold Mine also receives a $1,000 credit to use in any of the Office of Tourism's cooperative advertising programs in 2007.