2011 A.H. Pankow Award
Presented to
South Dakota Magazine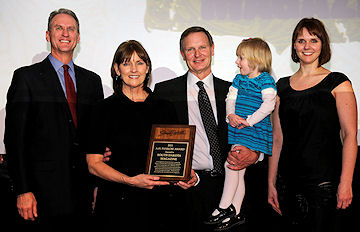 Governor Dennis Daugaard presents the
2011 A.H. Pankow Award to South Dakota Magazine, 
at the 2011 Governor's Conference on Tourism.
downloadable, hi-res version of this photo (300 dpi)
The A.H. Pankow Award recognizes a member of the broadcast media, print media, or public relations industry who has shown superior interest in and coverage of the South Dakota visitor industry. Pankow was the first publicity director for the State of South Dakota.
South Dakota Magazine explores the state looking for interesting people and places that define South Dakota's culture, heritage, arts, nature and communities.
The bi-monthly publication is written and headquartered at Yankton, in three old brick buildings built in the 1870s by Territorial Governor John Pennington.
The staff of 10 not only works hard to publish the magazine, but they have also produced several books featuring South Dakota stories and photographs.
The 2011 A.H. Pankow award recognizes South Dakota Magazine's mission to show the beauty of South Dakota through photography and to keep our heritage alive with the tales of our famous and infamous ancestors.