2011 Ben Black Elk Award
Presented to
Bill Honerkamp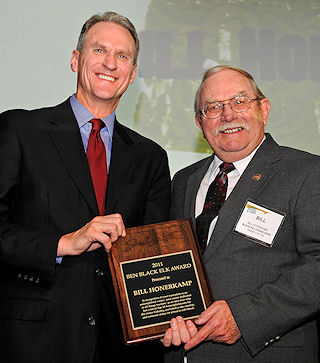 Governor Dennis Daugaard presents the
2011 Ben Black Elk Award to Bill Honerkamp, Rapid City, 
at the 2011 Governor's Conference on Tourism.
downloadable, hi-res version of this photo (300 dpi)
The Ben Black Elk Award recognizes an individual who has made tireless and outstanding contributions to the state's visitor industry. The award commemorates Ben Black Elk, who personally greeted visitors at Mount Rushmore National Memorial for more than 27 years.
Bill Honerkamp is an innovator in tourism marketing. He is responsible for setting up the first tourism 800-number in the country. He started the lit swap; lead the charge to build the Black Hills Information Center; and, in 1995, he authored the State Tourism Tax Legislation that has generated funding for the Office of Tourism.
Bill also invited nearly 500 journalists from around the world to come to the Black Hills. When they got there, he lost their luggage. Luckily, they found it. As a result of the hosting, nearly two million dollars' worth of earned media was generated.
Bill served as the State Travel Director, and the president of Black Hills Badlands and Lakes Association before retiring late last year.