2013 A.H. Pankow Award
Presented to
Chad Coppess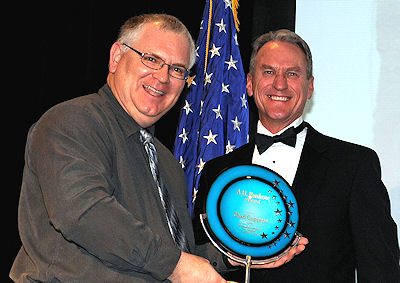 Governor Dennis Daugaard presents the
2013 A.H. Pankow Award to Chad Coppess of Pierre 
at the 2013 Governor's Conference on Tourism.
downloadable, hi-res version of this photo (300 dpi)
The A.H. Pankow Award recognizes a member of the broadcast media, print media, or public relations industry who has shown superior interest in and coverage of the South Dakota visitor industry. Pankow was the first publicity director for the State of South Dakota and this award honors his vision for getting coverage of the state.
The recipient of the 2013 A.H. Pankow award is Chad Coppess, senior
photographer for the Department of Tourism, Pierre. He showcases South Dakota's beauty and infinite variety through the lens of his camera.
He helped start the Black Hills Photo Shootout, got the Today Show to name the Norbeck Scenic Byway a top fall foliage destination (fall 2012), and has been photographing all corners of South Dakota for 20 years.
Governor Daugaard noted, "Chad has traveled the entire state looking for new and interesting ways to show off some of our state's most recognized attractions. His photos are featured around the globe in tour catalogs and magazine articles. Nearly every industry partner, state entity, and South Dakota attraction has used his images and photographs in one way or another. We are privileged to have Chad serving South Dakota."