2014 Ben Black Elk Award
Presented to
Phil Lampert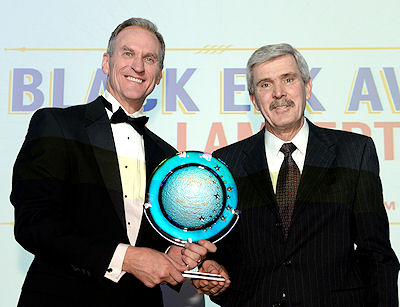 Governor Dennis Daugaard presents
the 2014 Ben Black Elk Award to Phil Lampert of Custer
at the 2014 Governor's Conference on Tourism.
downloadable, hi-res version of this photo (300 dpi)
The Ben Black Elk Award recognizes an individual who has made tireless and outstanding contributions to the state's visitor industry. The award commemorates Ben Black Elk, who personally greeted visitors at Mount Rushmore National Memorial for more than 27 years.
As Ben Black Elk was, Phil Lampert is also in the business of hospitality. He has devoted nearly four decades to serving the traveling public in South Dakota. More than half of those years were spent as the concessionaire in Custer State Park.
He was one of the individuals instrumental in enhancing the Custer State Park Buffalo Roundup event and serves on the boards of the Black Hills Playhouse, Mount Rushmore Memorial Society, the South Dakota Innkeeper's Association, as well as many others.
His vision and leadership qualities inspire dedication from his employees and has earned him the respect of his peers. He was named the Custer County Citizen of the Year in 2013 and is now our 2014 Ben Black Elk award winner.