2015 A.H. Pankow Award
Presented to
John Christopher Fine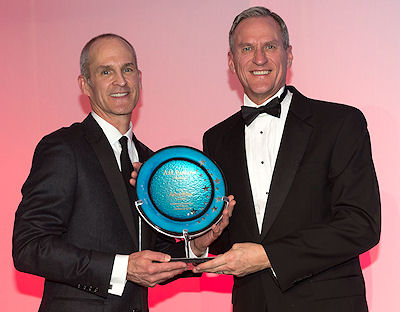 Secretary Jim Hagen and Governor Dennis Daugaard with
the 2015 A.H. Pankow Award at the 2015 Governor's
Conference on Tourism. It was awarded to
John Christopher Fine, who was unable to attend.
Every year the A. H. Pankow Award is presented to a representative of the broadcast, print media or public relations industry who has shown superior interest in and coverage of the South Dakota visitor industry.
Pankow was the first publicity director for the state of South Dakota and this award honors his vision for getting coverage of the state.
The 2015 award was presented to John Christopher Fine, a free-lance journalist and book author from Scarsdale, New York. John visits South Dakota nearly every year to both write about the state and to help at the wild mustang ranch near Lantry.
Although he is a marine biologist and a liaison officer of the United Nations Environment Program for ocean matters, John is a frequent guest at the Custer State Park Buffalo Roundup.
In the past five years alone, John has written more than 50 news articles about South Dakota, giving us millions of impressions and millions of dollars in advertising value.