2015 George S. Mickelson Great Service Awards
The George S. Mickelson Great Service Award honors businesses or organizations that have done an exemplary job of exceeding visitors' expectations in customer service. It marks the culmination of a yearly hospitality program that involves hospitality training, customer comment cards, an employee recognition program, and an application for the Great Service Star designation.
Each 2015 winner receives a $1,000 credit to use in any of the Department of Tourism's cooperative advertising programs in 2016.
Two George S. Mickelson Great Service Awards were presented for 2015.
"In today's social media world, a good or bad experience is rapidly communicated throughout online communities. That's why it is more important than ever to create an environment focused on customer service and visitor experience," Governor Daugaard said. "That's why every year we recognize two partners who go above and beyond."
Presented to
Akta Lakota Museum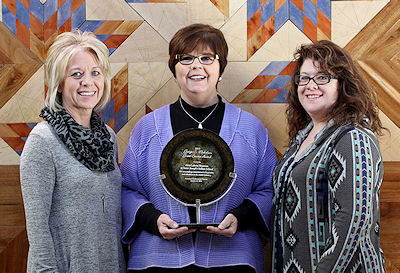 Dixie Thompson, Vickie Brennan-Dykes and Charleen Mellott,
of the Akta Lakota Museum, Chamberlain, with their
2015 George S. Mickelson Great Service Award, 
presented at the 2016 Governor's Conference on Tourism.
The Akta Lakota Museum at Saint Joseph's Indian School, Chamberlain, is committed to honoring and preserving the culture of South Dakota's Native Americans and educating the thousands of people who visit the museum each year.
Front-line student staff are trained onsite by a mentor about how to properly greet visitors and conduct guided tours. This puts the younger employees at ease and teaches them how to better interact with guests.
The Akta Lakota Museum also gives employees the confidence needed to deal with difficult situations.
Employee are recognized in a variety of ways. Managers and supervisors praise individual staff members in the company of their peers on any outstanding deeds that they completed, worked on or were a result of their direct input or service to the organization. They also host an annual employee appreciation luncheon, service award and employee recognition banquet, and recognize outstanding employees in the campus newsletter and the local newspaper.
Their motto is "We Serve and Teach, We Receive and Learn."
(The Akta Lakota Museum is the non-corporate category winner. This category recognizes smaller hospitality businesses that do not have access to a larger corporate training program.)
And,
Presented to
ClubHouse Hotel & Suites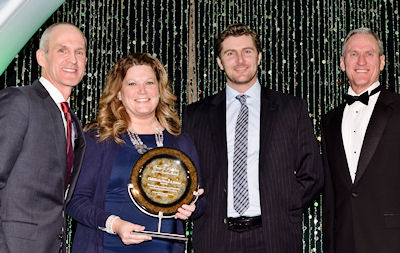 Secretary Jim Hagen and Governor Dennis Daugaard present a
2015 George S. Mickelson Great Service Award
to Peggy McGuire of the ClubHouse Hotel & Suites, Sioux Falls,
at the 2016 Governor's Conference on Tourism.
downloadable, hi-res version of this photo (300 dpi)
The ClubHouse Hotel & Suites, Sioux Falls, attributes its success to the fact that its staff is invested in the success of the hotel, both professionally and personally.
Hotel management believes this is something that cannot be forced; it comes with pride in the product and pride in their performance.
The Sioux Falls ClubHouse lives by the motto of "being second best just isn't enough."
With a goal to be the number one choice, their customer service philosophy is to raise the bar for excellence and to strive for the highest level of customer satisfaction.
All departments appoint an employee to represent them and have a voice in helping with the success of the hotel making customer service a number one priority.
Meals, snacks and treats are provided to reinforce how important each department is to the hotel and Governor's Hospitality Certificates are presented with a handshake and a thank you for a job well done.
Employees are also rewarded with ClubHouse Bucks, which can be redeemed for gift cards, movie tickets or gas cards.
(The Sioux Falls ClubHouse Hotel & Suites is the corporate category winner.)
Thank you to all of our industry members who participate in the Great Service Star program and to all industry staff who go above and beyond in the name of great service. Here are the finalists for the 2015 George S. Mickelson Great Service Award. In addition to the winners, these finalists also deserve recognition for all they do to make our visitors feel welcome:
Best Western PLUS Ramkota Hotel & Conference Center, Sioux Falls
Big Thunder Gold Mine, Keystone
Cedar Shore Resort, Chamberlain/Oacoma
Comfort Suites Hotel & Convention Center, Rapid City
Crazy Horse Memorial, Crazy Horse
Custer State Park, Custer
Prairie Berry Winery, Hill City
Rapid City Convention and Visitors Bureau, Rapid City
Redlin Art Center, Watertown
Saloon #10/Deadwood Social Club, Deadwood
Wylie Park, Aberdeen.