2017 Ben Black Elk Award
Presented to
Maureen Droz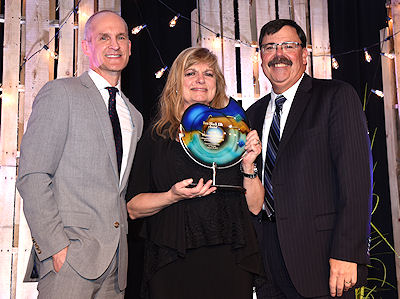 Secretary Jim Hagen and Lt. Gov. Matt Michels present
the 2017 Ben Black Elk Award to Maureen Droz of Pierre
at the 2017 Governor's Conference on Tourism.
downloadable, hi-res version of this photo (300 dpi)
The Ben Black Elk Award honors Ben Black Elk, who personally greeted visitors at Mount Rushmore National Memorial for more than 27 years. The award is presented annually to an individual who makes outstanding contributions to the state's visitor industry.
The 2017 Ben Black Elk Award recipient is Maureen Droz. Like Ben Black Elk, Maureen is an exemplary ambassador for the state of South Dakota.
For 37 years, Maureen promoted our state and showed visitors from all over the world how warm and friendly we are here in South Dakota. She first started telling South Dakota's story to travelers who stopped by our information centers. Her passion and enthusiasm for the state continued as she became the South Dakota Department of Tourism's Group Tour manager and then its International and Domestic Trade Sales director.
She traveled all over the world to promote South Dakota and always gave more than was asked.
In 2016, she decided it was time to retire so she could do what else … travel… this time for fun with her husband.
Maureen's love for South Dakota spanned the globe and that is why she is the 2017 Ben Black Elk Award winner.