2017 Excellence in Tourism Innovation Award
Presented to
The Great Plains Zoo and
Delbridge Museum of Natural History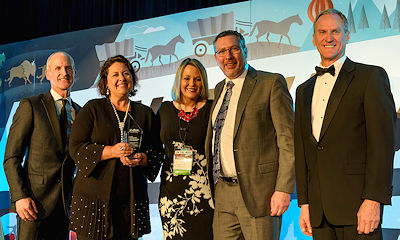 Secretary Jim Hagen and Governor Dennis Daugaard present
the 2017 Excellence in Tourism Innovation Award to
Elizabeth Whealy, Nicole Bruning and Dan Simon
of The Great Plains Zoo, Sioux Falls,
at the 2018 Governor's Conference on Tourism.
downloadable, hi-res version of this photo (300 dpi)
The Excellence in Tourism Innovation Award, first presented at the 2013 conference, is given to a member of the South Dakota visitor industry for their innovative thinking in marketing or special promotion.
The Great Plains Zoo and Delbridge Museum of Natural History in Sioux Falls as been working on expanding and upgrading its offerings for the past decade and it has seen its efforts pay off with a 230 percent increase in visitation.
During the summer of 2017, the zoo really knocked it out of the park when it created a promotion that had visitors extending their stay to experience it, and one family from Minneapolis made multiple trips back to experience it again and again.
The Great Plains Zoo was the host zoo for two cuddly kolas on loan from the San Diego Zoo. This was not an easy feat for the zoo, in fact it took several years of planning, fundraising and upgrading to secure permission for the kola loan. Only a handful of zoos are even considered each year
To maximize exposure, the zoo commissioned a kola mascot that made appearances at press conferences, events and sporting tournaments throughout the city.
A robust marketing campaign created urgency by telling visitors "You Can't Miss Cute" and public relations efforts garnered 87 stories for an estimated reach of 21 million.
On the day the exhibit opened, more than 6,500 kids and adults showed up to see the two visitors – including an east coast traveler that extended her vacation by a week so she could see the kola cuteness. As a result of this promotion, the zoo saw visitors from all 50 states, Washington, D.C., and three European countries.
The zoo also experienced a 9 percent increase in visitation and a 23 percent increase in retail sales – all because of extreme cuteness.
That's why the recipient of the 2017 Excellence in Tourism Innovation Award is The Great Plains Zoo and Delbridge Museum of Natural History.