2019 A.H. Pankow Award
Presented to
Mike Tanner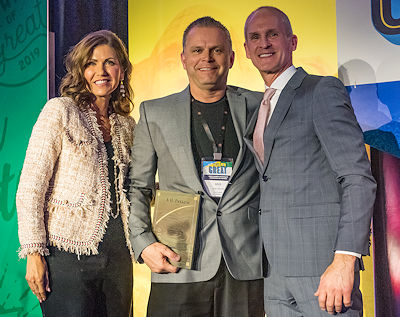 Governor Kristi Noem and Secretary Jim Hagen present
the 2019 A.H. Pankow Award to Mike Tanner
at the 2019 Governor's Conference on Tourism.
downloadable, hi-res version of this photo (300 dpi)
Every year, the A.H. Pankow Award is presented to a representative of the broadcast media, print media or public relations industry who has shown superior interest in and coverage of the South Dakota visitor industry.
A.H. Pankow was the first publicity director for the State of South Dakota and this award honors his vision for getting coverage of the state.
The 2019 award was presented to Mike Tanner of Watertown.
Mike is normally who you'd see in the emcee role, as he's known for hosting events that draw thousands to Watertown, such as the Redlin Fireworks Show.
For more than 30 years, Mike's attention to current events and his unbiased coverage of South Dakota news has made him a go-to resource for the latest headlines.
Every year, Mike does a live broadcast from Governor's Conference on Tourism to help spread the word about the importance of tourism in our state.
For showcasing so much of South Dakota to his listeners, Mike Tanner was recognized with the 2019 A.H. Pankow Award.