2019 Ben Black Elk Award
Presented to
Dennis and Sherry Povondra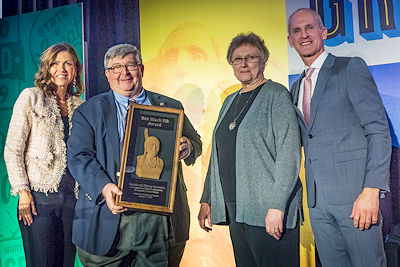 Governor Krisi Noem and Secretary Jim Hagen present the
2019 Ben Black Elk Award to Dennis and Sherry Povondra
at the 2019 Governor's Conference on Tourism.
downloadable, hi-res version of this photo (300 dpi)
The Ben Black Elk Award honors Ben Black Elk, who personally greeted visitors at Mount Rushmore National Memorial for more than 27 years. The award is presented annually to an individual (or individuals) who makes outstanding contributions to the state's visitor industry.
The 2019 Ben Black Elk Award recipients are Dennis and Sherry Povondra. Their story actually began 145 year ago, because that's when Czechoslovakian families immigrated to southeastern South Dakota.
Over time, the community of Tabor became the unofficial capitol of South Dakota's Czech population. And, for the last 71 years, people have come together to celebrate that heritage in the form of Czech Days. This two-day celebration brings 5,000-10,000 people to a community of only 400. Parades, music, dancing, food, faith, and family are all celebrated.
Dennis and Sherry grew up around Czech Days and began taking a lead role in the celebration starting in 2007. Since then, they have coordinated events that have brought more than 80,000 people to the town of Tabor.
Dennis and Sherry have danced the Beseda Dance, held leadership positions in church groups, overseen food stands, organized local subcommittees to take on components of the annual celebration, and even coordinated a fireworks display. They belong to the Tabor Chamber of Commerce, Tabor Development Corporation and Czech Heritage society.
These two wear a lot of hats, and they do it to keep a culture intact for generations to come. That is why Dennis and Sherry Povondra were named the 2019 Ben Black Elk Award recipients.