2020 Ben Black Elk Award
Presented to
Teri Schmidt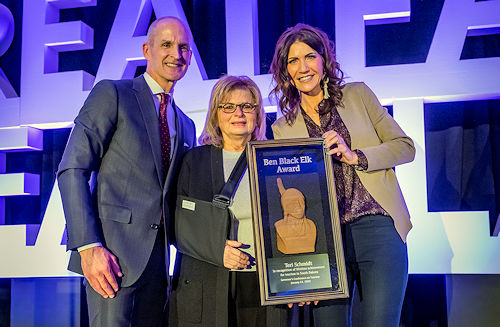 Secretary Jim Hagen and Governor Kristi Noem present the
2020 Ben Black Elk Award to Teri Schmidt
at the 2020 Governor's Conference on Tourism.
downloadable, hi-res version of this photo (300 dpi)
The Ben Black Elk Award honors Ben Black Elk, who personally greeted visitors at Mount Rushmore National Memorial for more than 27 years. The award is presented annually to an individual who makes outstanding contributions to the state's visitor industry.
The 2020 Ben Black Elk Award recipient was Teri Schmidt, Executive Director of the Sioux Falls Convention & Visitors Bureau.
Teri has served tirelessly as the "head cheerleader" for the city of Sioux Falls for the past 36 years. She has personally welcomed and greeted tens of thousands of visitors, sports fans and convention attendees to the city. She's encouraged Sioux Falls citizens to roll out the red carpet to each of these visitors, showing them that Sioux Falls is truly a Number One host city.
Her workday often begins with early morning radio and TV interviews and never really ends, as she continues to sell Sioux Falls and all of South Dakota at every opportunity – whether it be a basketball game, a theatre event, or wherever she happens to be.
After working diligently for almost 15 years, she helped bring the National Pheasant Fest and Quail Classic to Sioux Falls, one of the largest events in South Dakota Convention history, with over 28 thousand people from all over the United States.
Teri's incredible dedication and commitment are why she was named the 2020 Ben Black Elk Award recipient.