2020 George S. Mickelson Award
The George S. Mickelson Award honors businesses, communities, or organizations that have done an exemplary job of exceeding visitors' expectations in customer service. It marks the culmination of a yearlong hospitality program that involves hospitality training, customer comment cards, an employee recognition program, and an application for the Great Place designation.
One George S. Mickelson Award was presented for 2020.
Presented to
Big Thunder Gold Mine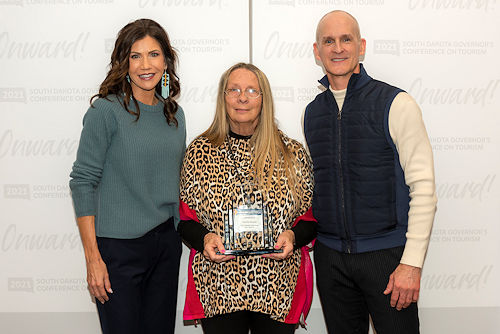 Governor Kristi Noem and Secretary Jim Hagen present
the 2020 George S. Mickelson Award to 
Sandi McLain of Big Thunder Gold Mine, Keystone,
at the 2021 Governor's Conference on Tourism.
downloadable, hi-res version of this photo (300 dpi)
Keystone's Big Thunder Gold Mine's hospitality and passion for the industry radiates throughout their surrounding communities and the people they serve.
Their motto is to always look at the positive and to make every day something you will always remember. In the wake of COVID-19, they credit this philosophy, and their community as a whole, for the success they had in 2020.
They have learned that they touch the hearts of many who visit them, and it leaves a memory their visitors will never forget. The reviews they've received overwhelmingly agree.
Thank you to all of our industry members who participate in the Great Place Program and to all industry staff who go above and beyond in the name of great service. Here are the finalists for the 2020 George S. Mickelson Award. In addition to the winners, these finalists also deserve recognition for all they do to make our visitors feel welcome:
Akta Lakota Museum, Chamberlain
My Place Hotel, Brookings
Prairie Berry, LLC, Hill City
Quality Inn & Suites, Watertown
Wall Drug Store, Inc., Wall
Go to "Training & Hospitality" for more information about the
qualifications for the George S. Mickelson Award and the South Dakota Great Place Program.