2022 George S. Mickelson Award
The George S. Mickelson Award honors businesses, communities, or organizations that have done an exemplary job of exceeding visitors' expectations in customer service. It marks the culmination of a yearlong hospitality program that involves hospitality training, customer comment cards, an employee recognition program, and an application for the Great Place designation.
 
Presented to
Shady Rest Motel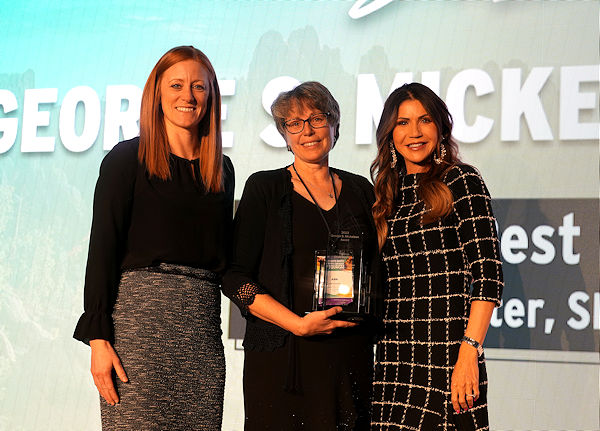 Deputy Secretary Wanda Goodman and Governor Kristi Noem present the
2022 George S. Mickelson Award to Ann Dvorak of Shady Rest Motel, Custer,
at the 2023 Governor's Conference on Tourism.
downloadable, hi-res version of this photo (350 dpi)
Over the past several years, the Shady Rest Motel has made significant updates to its facilities. It has also emphasized customer service training, offering intense in-house and Visitor Industry partnership training opportunities to its staff throughout the season. Customers say it all in their online reviews of the motel. For example, one customer commented, "We asked if there was an ice machine, and they said no. But later, they brought us a tub of ice from their own kitchen." Another posted, "It was like meeting up with a good friend after years apart." As a result, the Shady Rest Motel has been called "a must stay – everything from the cleanliness to the friendliness!!"
Thank you to all of our industry members who participate in the Great Place Program and to all industry staff who go above and beyond in the name of great service. Here are the finalists for the 2022 George S. Mickelson Award. In addition to the winner, these finalists also deserve recognition for all they do to make our visitors feel welcome:
1880 Train, Hill City
Akta Lakota Museum, Chamberlain
Storybook Land, Aberdeen
 
Go to "Training & Hospitality" for more information about the
qualifications for the George S. Mickelson Award and the South Dakota Great Place Program.
Back to Tourism Awards