2023 Marketing Campaign
"So Much South Dakota, So Little Time"
Research shows today's travelers long for a time when a trip was more than sightseeing and standing in lines. They seek experiences filled with exploration and discovery that provide a truly transformational and fulfilling vacation.
Travel South Dakota's 2023 peak marketing campaign, "So Much South Dakota, So Little Time," shows visitors that our state has what they crave: 77,000 square miles of pure wonder, filled with so many things to see, smell, taste, hear and feel. "So Much South Dakota" is an invitation to ditch convention, zig where other travelers zag, and to take a wrong turn just because – all while reminding them they need extra time to do it!
This campaign is energizing and engaging with intentional imagery and conversational copy. Our hope is to provide an authenticity that encourages people to actually see themselves in the moment versus seeing an advertisement. Through various traditional, digital and out-of-home tactics, 2023 will give visitors endless reasons to pack their bags and discover "So Much South Dakota."
Objectives
"So Much South Dakota, So Little Time" drives brand awareness and qualified traffic to the Travel South Dakota website through strategic, behavior-based placement and tactics that will…
Reach and inspire high-value, mystery-starved travelers in their dream phase of vacation planning.
Spark consideration among key cohorts through highly engaging tactics, influencing itineraries and trip planning to South Dakota.
Retarget South Dakota site visitors and ad engagers with compelling messaging that results in booking trip accommodations.
Audiences
Based on our data and past visitor behavior, we have identified these core audience segments to target with our campaign:
Memory Makers (Families, 25-44, HHI: $60-150K, Children in HH, Family is everything)
Moment Seekers (Older Couples, Age 50+, HHI: $100K+, No Children)
Thrill Chasers (Younger Couples, 25-44, HHI: $50-100K, No Children)
Known Travelers (visitors within each segment who have already shown an intent to book)
Markets
We continue to focus on traditionally strong performing states (legacy markets), while also extending our reach to data-driven emerging markets. In addition, high-level brand awareness messaging will be placed nationwide to reach travelers during the entire summer planning and traveling months.
Nationwide
Dallas, Texas
Colorado (with stronger emphasis in Denver DMA)
Illinois
Iowa
Minnesota (with stronger emphasis in Minneapolis)
Montana – NEW
Nebraska (with stronger emphasis in Omaha)
North Dakota
South Dakota
Wisconsin – NEW
Wyoming
Timing and Tactics
We launched our 2023 peak season marketing in mid-March with social media and display tactics. We followed that up with digital audio and video in April to further soften the markets and lay the groundwork for the launch of our traditional elements (broadcast/connected TV/print/billboards) and digital-out-of-home efforts in May. These efforts will continue until just before Sturgis Rally week in August.
National Travel South Dakota messaging, aimed at reaching the high-valued, experience-starved audience, was placed on Hulu/Disney+ and the Paramount+ streaming networks starting in mid-April. We also hit the airwaves with television and SXM podcast advertising.
As we have experienced over the past several years, planning cycles are shortening and many people are booking in the "spur-of-the-moment. " This is why we will continue our multi-channel, multi-market approach throughout the summer travel season (end of July) to ensure our message reaches travelers in every phase of their decision-making process.
2023 Partnerships
Partnerships continue to be an invaluable and strategic way we share South Dakota's story. We continue to build off past program successes and again partner with Brand USA and South Dakota Game, Fish and Parks in 2023.
We strongly believe our Community Cooperative Marketing Program and Á La Carte Cooperative Marketing Program not only enhance our efforts, but complete them. We are thankful for these partnerships and excited to continue to work with these community co-ops in 2023:
Aberdeen Hotel Alliance/Aberdeen Area Convention & Visitors Bureau
Black Hills & Badlands Tourism Association
Custer BID Board
Deadwood Chamber of Commerce & Visitors Bureau
Hill City Chamber of Commerce
Hot Springs BID Board
Mitchell Convention & Visitors Bureau
Pierre BID #1
City of Sturgis
Visit Brookings
Visit Rapid City
Visit Spearfish
Watertown Convention & Visitors Bureau
Yankton Convention & Visitors Bureau
 
CREATIVE EXAMPLES
Video
So Much South Dakota, So Little Time – Couples :30 video
Print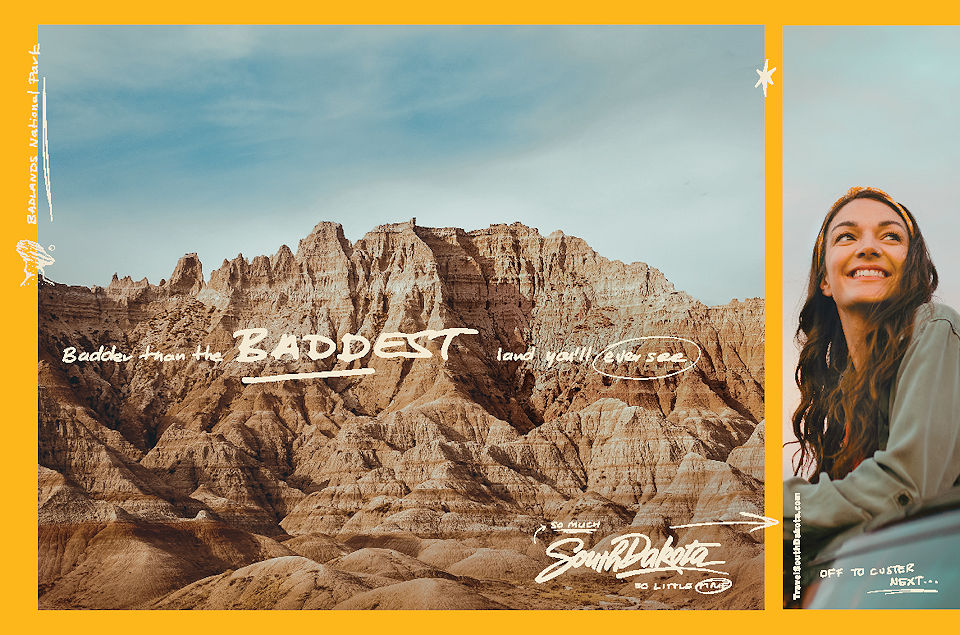 So Much South Dakota, So Little Time – Outside Magazine two-page spread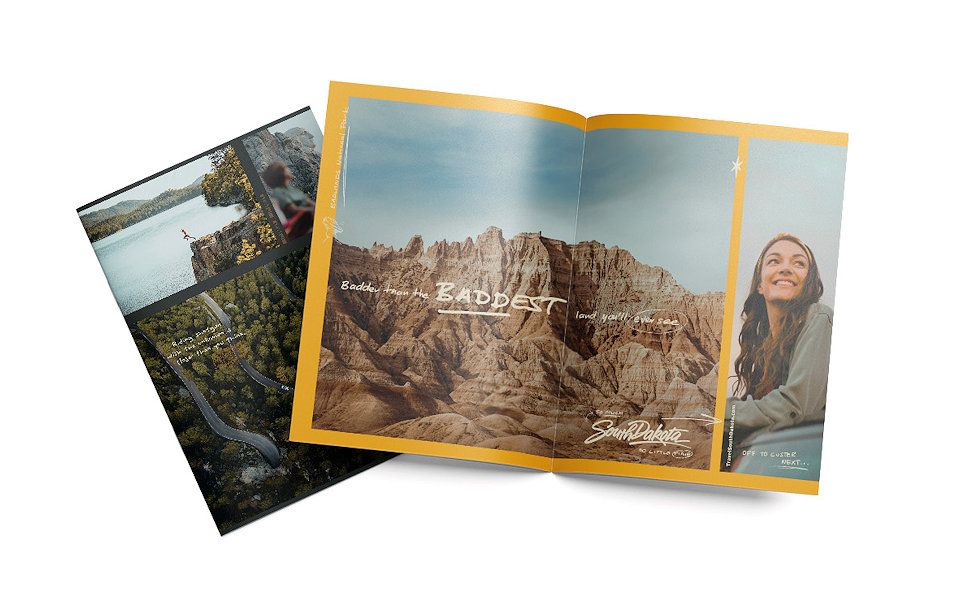 Video
"Skogen Kitchen: Custer's Culinary Surprise" South Dakota Tourism-produced Short Film
Out of Home
wrapped buses in Minneapolis/Saint Paul: