2023 Ben Black Elk Award
The Ben Black Elk Award honors Ben Black Elk, who personally greeted visitors at Mount Rushmore National Memorial for more than 27 years. The award is presented annually to an individual who makes outstanding contributions to the state's visitor industry.
Presented to
Julie Jensen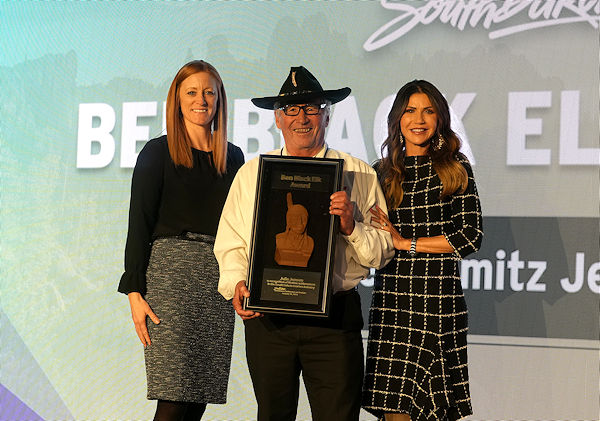 John Brockelsby accepts the 2023 Ben Black Elk Award from
Deputy Secretary Wanda Goodman and Governor Kristi Noem
at the 2023 Governor's Conference on Tourism.
The award was presented posthumously to Julie Jensen, Rapid City.
downloadable, hi-res version of this photo (300 dpi)
Julie Schmitz Jensen, who passed away unexpectedly in September 2022, was known for her incredible impact on the travel industry during her two times as the Executive Director of Visit Rapid City.
Julie started her South Dakota journey as an executive assistant to Governor Dick Kneip. She also served a short time with the Western South Dakota Development Corporation before falling in love with tourism. Julie served as the assistant director of the Sioux Falls Convention & Visitors Bureau before taking the position of Executive Director of the Rapid City Convention & Visitors Bureau – for the first time. In 1996, after 14 years at the Rapid City CVB, she retired to raise her three children. She also welcomed 24 foster babies into her home and volunteered for nearly every parent organization in town. In 2014, her children were grown, and she returned to lead the CVB, now known as Visit Rapid City. Julie was a driving force in helping the organization become an independent entity and rebrand its travel messaging to Do Big Things.
While Julie has left us, her legacy and accomplishments for tourism in South Dakota will remain forever.
Back to Tourism Awards