History of the Ben Black Elk Award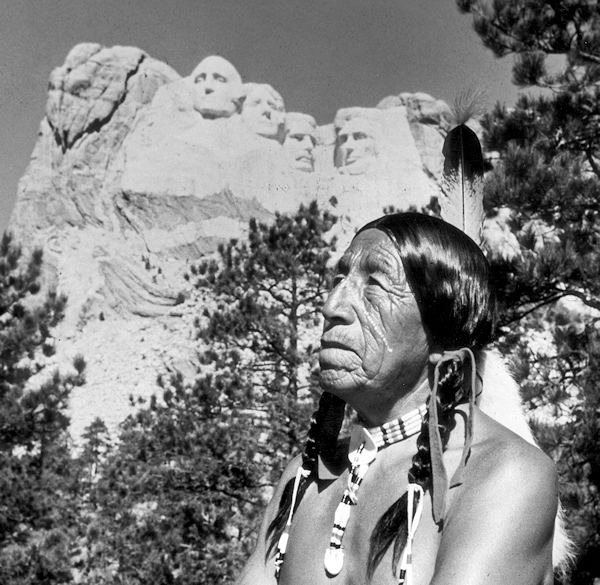 It was with great respect that an annual tourism award was named for Ben Black Elk, born in 1899 on the Pine Ridge Indian Reservation. He was the unofficial greeter for 27 years at Mount Rushmore National Memorial. The award in his name is given "In Recognition of Lifetime Achievement in Tourism."
Prior to the years he spent at Mount Rushmore, Black Elk was a successful rancher, traveled extensively, and testified before Congress on the importance of teaching Indian history to Indians. Ben Black Elk's movie career included "How the West Was Won." He traveled Europe promoting the movie. Many called him "The Lakota Ambassador" and he was an articulate speaker on preserving Indian culture. Black Elk has been called the fifth face of Mount Rushmore, and it was estimated that 5,000 photos were taken of him every day.
A wooden bust of Ben Black Elk had previously been on display at the Cultural Heritage Center in Pierre, South Dakota. It now is on display in the offices of the Department of Tourism at the Dolly-Reed Plaza, also in Pierre. Since 1979, the award has been given to an individual, organization, or community in recognition of their achievements in the tourism industry. Each honoree's name is displayed on either side of the bust.
The carver, Charles A. Schaffer, started the National Museum of Woodcarving near Custer, South Dakota, in 1972 (now closed). Son Dale Schaffer said that his father began carving the bust of Ben Black Elk either in late 1973 or early 1974. Dale believes his father presented it to State Tourism either in late 1974 or early 1975.
 
Ben Black Elk Award Nomination Form
 
View the current Ben Black Award recipients.
 
View past Ben Black Elk Award recipients.