Interstate Welcome Centers
The South Dakota Interstate Welcome Centers are an important part of South Dakota Tourism. More than 500,000 people from all over the world visit the Welcome Centers each summer. Our centers are often the first stop visitors make as they enter the state, so we make sure to always greet them with a friendly South Dakota smile and provide all the travel information they need. From rock climbing to fine dining, we've got it all in South Dakota; and we've got information about it all at our Interstate Welcome Centers.
2019 Interstate Welcome Center Hours
The Wilmot, Vermillion, Chamberlain and Spearfish Interstate Welcome Centers will open Monday, May 20, and will remain open seven days per week from 8 a.m. to 5 p.m.
The Wilmot location will close for the season on Sunday, September 15. The Vermillion, Chamberlain and Spearfish locations will remain open through Sunday, October 13.
Rest Area Revitalization Plan
Information about the Rest Area Revitalization Plan, including the background, a timeline and frequently asked questions, has been compiled and posted online. Updates will be added as they become available.
South Dakota visitor industry members may display their publications at any of the four Interstate Welcome Centers. All industry members interested in displaying their publication at a Welcome Center must first review the Publication Program requirements and then submit the online Publication Program application. The requirements (2019) will be strictly enforced, and any business whose application has not been submitted by the deadline will not be allowed to display their publication at the Welcome Centers during the 2019 season.
Publications will be displayed at the discretion of the Interstate Welcome Center staff. Any concerns regarding how your publication is being displayed should be directed to the Department of Tourism's Welcome Center Manager (see below). Industry members are responsible for delivering or shipping copies of their materials to the center(s).
There is no fee for participating in the Interstate Welcome Centers Publication Program, but you are required to register each year.
2019 Price:  Free

2019 Deadline:  Friday, April 12, 2019

PLEASE READ: 2019 Publication Program requirements (PDF)

Publication Program online registration form - available January 2019
Available Welcome Centers
Wilmot (one center: I-29 northbound/southbound)
Vermillion (one center: I-29 northbound/southbound)
Chamberlain (one center: I-90 eastbound/westbound)
Spearfish (one center: I-90 eastbound)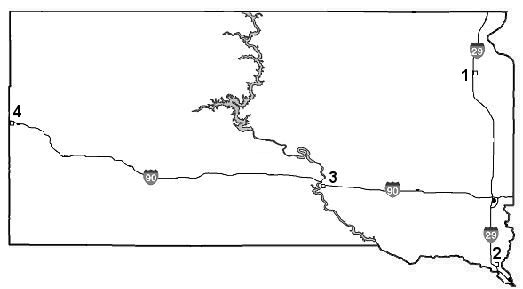 FOR INFORMATION
Please contact Nate Johnson, Welcome Center Manager, for more information at 605-773-3301 or [email protected].