Vacations Shouldn't Be Limited to Summer
2023-2024 Winter Campaign
Consumers feel like time is passing faster than ever — and some regret not doing what they wanted during warmer months. So we wanted to acknowledge that winter is also a time to discover South Dakota. We wanted to lean in even harder to "So Much South Dakota, So Little Time" while reminding folks that it's never too cold to have fun in South Dakota!
 
CAMPAIGN STRATEGY
The campaign launched November 2023 and will run through February 2024. Tactics will continue the momentum of the "So Much South Dakota" brand established leading up to and during the peak season. Having an always-on presence will also help maintain and expand South Dakota's brand awareness, influencing visitation in the winter months as well as in the upcoming peak season.
 
AUDIENCES
Based on our data and past visitor behavior, we have identified these core audience segments that have been targeted during peak season efforts and will continue during the winter campaign:
Memory Makers (Families, 25-44, HHI: $60-150K, Children in HH, Family is Everything)
Moment Seekers (Older Couples, Age 50+, HHI: $100K+, No Children)
Thrill Chasers (Younger Couples, 25-44, HHI: $50-100K, No Children)
Known Travelers (visitors within each segment who have already shown an intent to book)
 
MARKETS
In-state: South Dakota
Statewide: North Dakota, Minnesota, Wyoming, Iowa, Nebraska, Colorado, Illinois
DMAs: Denver, Minneapolis, Des Moines, Omaha, Dallas
 
TACTICS
We launched this year's winter campaign with a targeted national video placement on Paramount+, YouTube TV, cable and video-on-demand focusing on live sports and prime programming, along with broadcast television on high-rated sporting events, prime and news programming.
Supplementing the national video placement are regional video efforts driving engagement across connected TV, pre-roll and social. Streaming audio, podcast audio, display, native, and paid social will continue to drive reach, frequency, and lower-funnel conversions through the end of the campaign. Winter campaign creative will also be showcased as part of ongoing efforts in South Dakota Magazine.
 
CREATIVE EXAMPLES
Video
Print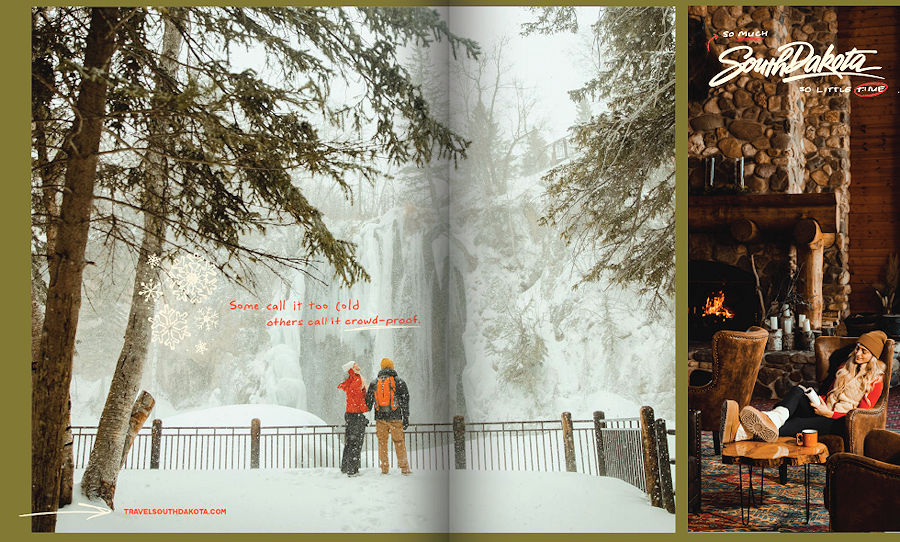 Display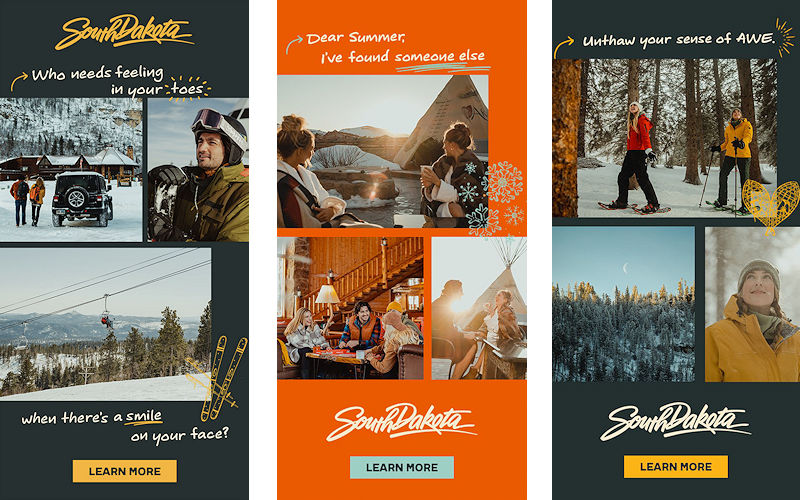 Social


FOR INFORMATION
For more information, please contact Chief Marketing & Creative Officer Mike Gussiaas.